Cabos Best selection of ATV Tours & Razor Tours – Cactus ATV Tours
Cactus ATV Tours offer a wide range of Adventure activities in Los Cabos.  Cactus ATV Tours have been operating ATV, Razor and Horseback Tours on the Pacific Coast of Baja California Sur, for many years.  Constantly trying to stay ahead of the market, Cactus ATV Tours was the first company to offer Polaris RAZOR Tours, and now Wildcat 100cc vehicles.
With tours available for the whole Family, we´re sure you'll find the perfect cabo tours for your group.  Cabo Discount Tours is happy to put packages together for large groups, families, bachelor parties, shore excursions or anyone who is looking for an adrenaline rush in cabo.
Check out our cabo activities and choose your next Cabo Adventures now, with the best rates on your favorite Cactus ATV Tours.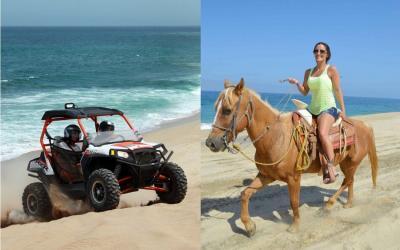 Average rating:
5 reviews
Nov 27, 2017
Family Fun
Tour/Activity:
Family Ranger tour
A great family experience in these very safe off road vehicles. The tour was perfect for our families and we were lucky to have a guide all to ourselves. The guides were very respectful and showed us a good time. We had some small children and we felt very safe with them on this tour.
Nov 27, 2017
Great service
Tour/Activity:
Razor tour
Ash helped us decide on the Migriño Razor tour. We had planned on the ATV tour, but decided the razors would be more comfortable for the smaller kids. What a blast, cruising up and down the dunes! Perfect conditions and great ocean views were only surpassed by our super friendly guides.
Nov 12, 2017
Very Safe and exciting
Tour/Activity:
Side by Side tour
We took the Side by Side Razor tour and had so much fun in the sand dunes.  All throughout the route, we saw photographers and Paramedics with their safety gear, which made us feel very safe.  We got a great chance to have some fun in these quick vehicles plus learn about some of the local cactus and culture along the way. We received a nice savings booking through Cabo Discount Tours too.
Cabo Discount Tours Reviews
Dec 2, 2017
Lo mejor de Cabo
Excelente actividad, muy divertida y con paisajes hermosos. Pasamos un día excelente en caballo y luego Barco de Sunset. Ash nos ayudó en organizar... "view
Nov 27, 2017
Golfing
Tour/Activity:
18 holes Cabo San Lucas CC
Ash was very responsive. Answered my email and voice mail questions promptly. No surprises. Would use his company again in the future. Thanks... "view