Cabos Best selection of ATV Tours & Razor Tours – Cactus ATV Tours
Cactus ATV Tours offer a wide range of Adventure activities in Los Cabos.  Cactus ATV Tours have been operating ATV, Razor and Horseback Tours on the Pacific Coast of Baja California Sur, for many years.  Constantly trying to stay ahead of the market, Cactus ATV Tours was the first company to offer Polaris RAZOR Tours, and now Wildcat 100cc vehicles.
With tours available for the whole Family, we´re sure you'll find the perfect cabo tours for your group.  Cabo Discount Tours is happy to put packages together for large groups, families, bachelor parties, shore excursions or anyone who is looking for an adrenaline rush in cabo.
Check out our cabo activities and choose your next Cabo Adventures now, with the best rates on your favorite Cactus ATV Tours.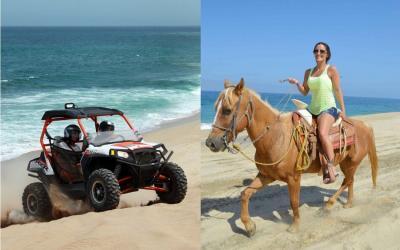 Oct 16, 2017
Activities In Cabo
Tour/Activity:
ATV's / Horseback Riding / Ziplines / Swim With Dolphins
We booked several activities for our trip to Cabo the week of October 9, 2017 through Ash. He did a wonderful job getting the activities set... "view
Oct 16, 2017
3 Days of Golf
Some friends and I went on a 3 day golf trip to Cabo the week of October 2, 2017. Ash did a great job getting our golf reservations completed... "view